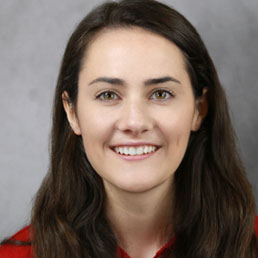 Jenna Lostritto-Simmons
Career Consultant for the Franklin College of Arts and Sciences (all Life Science & Pre-Health students), the College of Public Health, and the College of Engineering.
Jenna joined the Career Center team in June 2017 and is excited to serve students in all engineering, health, and science majors at the University of Georgia. She first became a Bulldog at Mississippi State University (MSU) where she earned a Bachelor of Science in Educational Psychology. While she continued her Master of Science in Counselor Education-Student Affairs, she worked as a Graduate Assistant and Instructor with the MSU Career Center. Her position allowed her to counsel students both in and outside of the classroom regarding career goals and interests.
Jenna spent much of her undergraduate college career testing the waters in a variety of fields like health care, fine arts, and communication. Her own experiences drive her to encourage students to discover their own, personalized career path through career and major exploration and industry research. She is passionate about equipping students to hone their skills to prepare them for finding fulfilling careers.
Opportunities to Connect with Jenna
Call (706) 542-3375 to make an appointment
Drop by Jenna's Satellite Hours on Thursdays from 3:00pm until 5:00pm in Driftmier Hall 101 or Second and Fourth Mondays from 2:00pm until 4:00pm in Psychology Hall 164 (Pre-Health Advising Office)
Visit the Career Center Computer Lab in Clark Howell For "Walk-In Hours." Jenna typically covers "Walk-In Hours" on Tuesdays from 12:00pm until 2:00pm