---
The UGA Career Outcomes Initiative
The Career Outcomes Initiative provides insight into the employment and continuing education status of UGA graduates within an average of 6 months of their graduation date. Additionally, the data provides detailed employment, salary, and graduate school information. These reports constitute the only centralized employment data collection for The University of Georgia and are used by current students, employers, colleges/schools, departments, and other stakeholders. Data from our survey is published in the UGA Fact Book and reported to various organizations that rank colleges, such as US News and World Report.
---
CAREER OUTCOMES RATE
The Career Outcomes Rate is calculated from the percentage of students who are either employed, continuing their education, or not currently seeking employment within an average of 6 months after graduation. UGA's 95% Career Outcomes Rate is 13% higher than the National Average.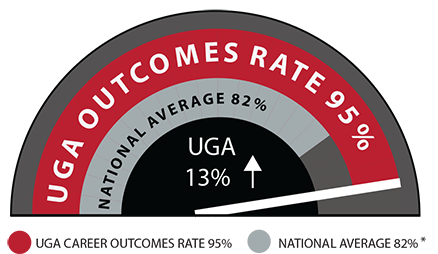 ---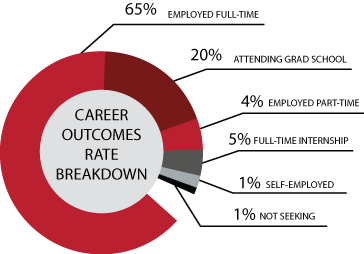 ---
ENGAGED VS NON-ENGAGED STUDENTS
65.2% Full-Time Employment Rate for Career Center Engaged Students **
54.4% Full-Time Employment Rate for Non-Engaged Students
Career Center Engagement yielded a 10.8% increase over non-engaged students
---
---
OF ALL FULL-TIME EMPLOYED GRADUATES...

---
---

---

---
Top 25 Employers for the Class of 2016 †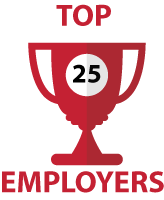 ---
Aon
AT&T
Banfield Pet Hospital
CDC
Chick-fil-A
Children's Healthcare of Atlanta
CVS Health
Deloitte
Delta Air Lines

Ernst & Young
Georgia-Pacific
Insight Global
KPMG
Kroger
Macy's
Newell Brands
PricewaterhouseCoopers
Protiviti

State Farm
SunTrust Banks
The Home Depot
University of Georgia
UPS
Walmart
Wells Fargo
---
TOP GRADUATE/PROFESSIONAL SCHOOLS FOR THE CLASS OF 2016 ‡
Emory University
Duke University
Georgetown University
New York University
The Georgia Institute of Technology
University of Florida
University of Georgia
University of North Carolina at Chapel Hill
University of Virginia
Vanderbilt University
---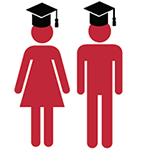 ---
UGA CLASS OF 2016 GRADUATES ARE PURSUING CAREERS IN...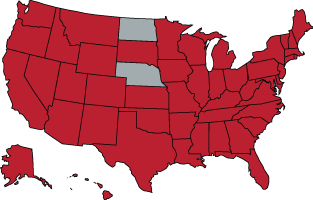 ---
TOP U.S. DESTINATIONS FOR THE CLASS OF 2016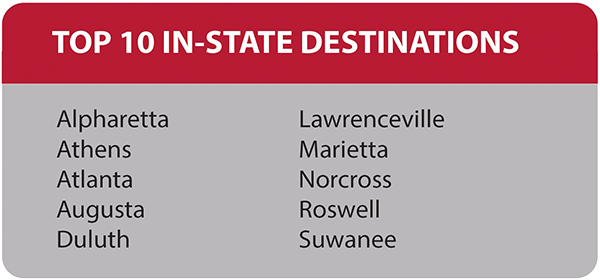 ---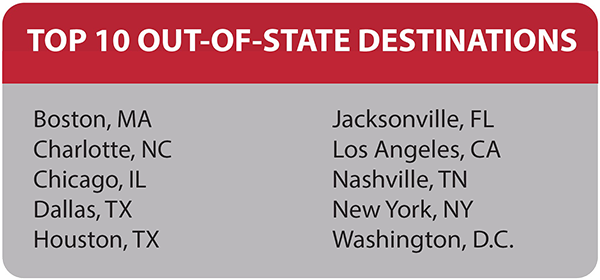 ---
SELECT INTERNATIONAL DESTINATIONS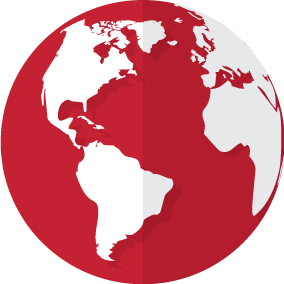 ---
Australia
Austria
Brazil
Chile
China
Colombia
Costa Rica
Dutch Caribbean
Egypt
France
Germany
Greece
Guatemala

India
Indonesia
Ireland
Italy
Jamaica
Japan
Jordan
Laos
Mexico
Paraguay
Peru
Russia
South Africa

South Korea
Spain
St. Kitts & Nevis
Switzerland
Taiwan
Thailand
United Kingdom
Turkey
Ukraine
United Arab Emirates
United Kingdom