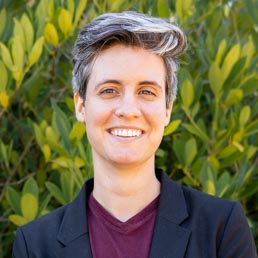 Ciera Durden
Drop-In Graduate Assistant
C Durden (She/her/hers) is a first-year student in the M.Ed. Mental Health Counseling program and a Drop-In GA for the Career Center. Her previous degrees are also from UGA - a Bachelor of Arts in English and a Master of Education in College Student Affairs and Administration. For the past three years, she worked at Clemson University in South Carolina as the inaugural full-time staff member dedicated to LGBTQ+ initiatives before deciding to change her career path to pursue a counseling career focused on sexuality and gender. In her free time, she enjoys spending time with her fiancée Apollonia, cooking super spicy food, and trying her hardest to get a solid home workout routine going.
Opportunities to Connect with Ciera
You may email Ciera Durden at .(JavaScript must be enabled to view this email address).
---
Need help before you can meet with your Career Consultant? Take advantage of our virtual drop-in hours, which are held Monday through Friday (during Fall and Spring semesters) from 11:00am to 2:00pm.