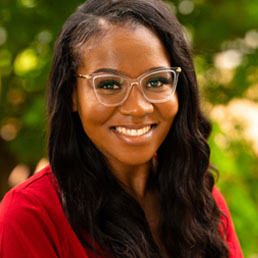 Kenyetta Nesbitt
Career Consultant for the College of Engineering and Franklin College of Arts & Sciences (Computer Science, Data Science, Statistics, Cyber Security, and Artificial Intelligence majors)
Kenyetta joined the Career Center in November 2020. Kenyetta received her Bachelor of Science in Psychology from Georgia Southern University and is slated to receive her Master of Business Administration with a specialization in Human Resources Leadership from Clayton State University in May 2021.
Kenyetta brings versatile professional experience to her current Career Consulting role including having previous higher education experiences in Career Advising, Academic Advising and Enrollment Management, specifically Financial Aid. Prior to her tenure in higher education, Kenyetta accumulated seven years of experience in the Technology industry in roles, such as Web Developer, Software Tester, Data Analyst, and Software Application Specialist/Project Coordinator.
Kenyetta is passionate about helping students develop their career identity by connecting their unique life and educational experiences, interests, skills, values, and goals to various meaningful employment and experiential learning opportunities. She thrives on the success of helping students discover their potential and define how they want to impact the world though a rewarding, dynamic career.
Opportunities to Connect with Kenyetta
To schedule a virtual/online appointment with Kenyetta Nesbitt, please do so through your Handshake account. Once scheduled, your Career Consultant will send you a virtual meeting invitation via Zoom.
To participate in virtual drop-in hours, which are held Monday through Friday from 11:00am to 2:00pm, please view the instructions here.

.(JavaScript must be enabled to view this email address)