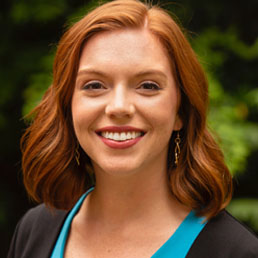 Marla Ebert
Associate Director of Employer Relations
Marla joined the UGA Career Center team in June 2019 and serves on our employer relations team as the Associate Director of Employer Relations. Previously, she served as a Career Consultant with the UGA Career Center.
Her primary responsibilities include serving as the connection between the Employer Relations team and the Career Consultant team within the UGA Career Center in order to ensure a consistent knowledge base of potential opportunities available to employers and UGA students/alumni. Additionally, she supports the scheduling of many Career Center employer engagement events including the annual Mock Interview Week, weekly employer breakfasts and three boutique career fairs – the Financial Planning, Housing and Consumer Economics Fair, the Food, Agricultural, and Environmental Sciences Fair, and the College of Environment + Design Career Fair.
She received her Master of Arts in Education with a specialization in Higher Education Administration from Louisiana State University. During her time at LSU, she served as a Graduate Assistant in the Olinde Career Center. After completing her Bachelor of Science in Business Administration with a focus in Finance from Auburn University, she served in a full-time role for her national greek organization as a Traveling Chapter Consultant. With her previous experiences in Career Services, she is passionate about serving and learning with the students at UGA, and hopes to be able to aid them in their transition and connections with employers.
Opportunities to Connect with Marla
To schedule an in-person or virtual/online appointment with Marla Ebert, please do so through your Handshake account, or call the Career Center at (706) 542-3375.

.(JavaScript must be enabled to view this email address)
---
Need help before you can meet with your Career Consultant? Take advantage of our virtual drop-in hours, which are held Monday through Friday (during Fall and Spring semesters) from 11:00am to 2:00pm.