Alumni Career Resources
The UGA Career Center and UGA Alumni Association are partners in providing resources to help alumni Get Connected! UGA Alumni Career Services is located in the Atlanta Alumni Center in Buckhead.
Atlanta Alumni Center
Terry Executive Education Center Rm. Suite 870
3475 Lenox Rd, NE
Atlanta, GA
T: 404-814-8820
Alumni Career Counseling:
When you are at a crossroad, it can help to talk with your Alumni Career Counselor, Bethany Bagley Mills, located in the Atlanta Alumni Center in Buckhead. Alumni have access to FREE career counseling, and appointments are available Monday-Friday between 9am-3pm.
Topics can include: Resume/Cover Letter Critique, Mock Interview, Career Exploration, Job Search Strategies, Interest/Personality Assessments, Networking, LinkedIn and Social Media Engagement, and additional career-related topics.
For those alumni who have graduated within the past 2 years, appointments can still be made at the UGA Career Center located on the Athens campus. Also, Alumni Career Counseling is provided in Athens on the 4th Thursday of each month.
To schedule an appointment in Athens, call the UGA Career Center at (706) 542-3375.
To schedule an appointment with Bethany Bagley Mills at the Altlanta Alumni Center, follow these 3 steps:
1. Register with DAWGlink. Send an email tobjbagley@uga.edu with your full name, graduating class year and degree. Include your former UGA email address and a current non-UGA email
address. Within 24 hours, you will receive an email with instructions on how to update your DAWGlink password.
2. Make your appointment ONLINE through DAWGlink.

Additional Notes Section: Make sure to include your major/degree, graduation year, phone number, email address, and brief reason for the appointment.
If a PHONE appointment, please write "PHONE" on the first line in the "Notes" section. See the example below:​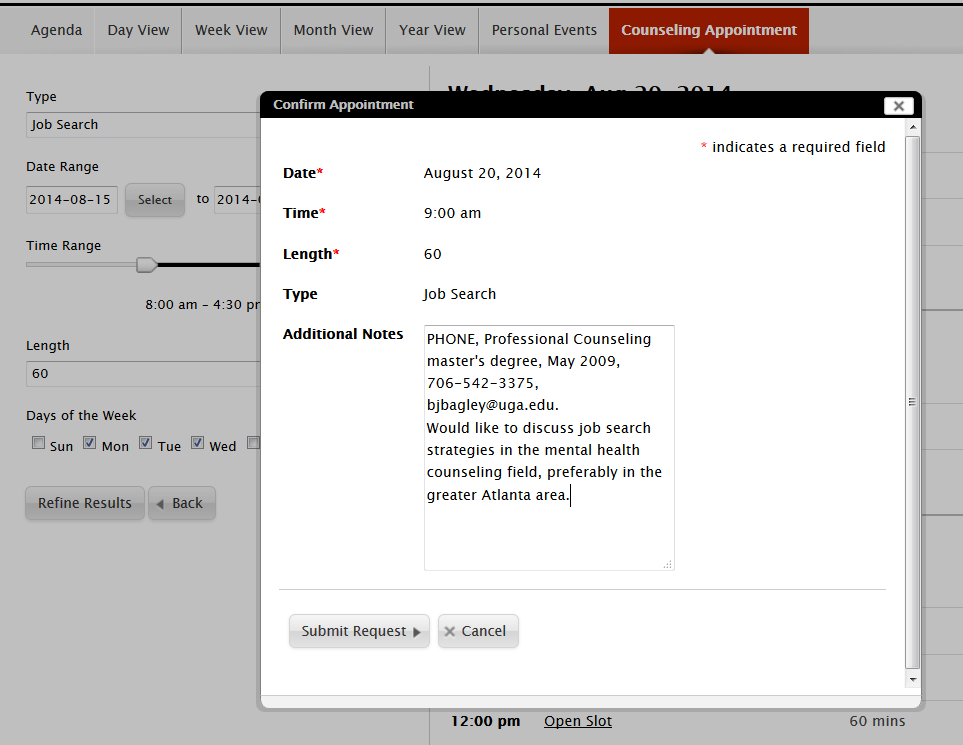 Approval: Your appointment is "pending" until approval from your counselor. Once approved, you will receive an email of your confirmed appointment day and time.
3. Upload your resume into the "Documents" tab in your DAWGlink account in order to prepare for the meeting.
Should you have any issues requesting an alumni counseling appointment, please call the UGA Career Center front desk (706) 542-3375 during office hours: 8am-5pm, Monday-Friday and request an alumni counseling appointment.
Online Job Postings: DAWGlink
All UGA alumni have free lifetime access to DAWGlink — UGA's online job board. Browse hundreds of positions specifically for UGA students and alumni all over the country. (Tip: Login and click the "Employers" tab for recruiter contacts. For more options, search the "NACElink Network" under the "jobs" tab.)
Not Yet Registered?
Click here to create your UGA Alumni "DAWGlink account.
Virtual Career Center: CareerBeam
CareerBeam's model is designed to take the best assessments, resume and cover letter development tools, search strategies and research databases and integrate them into one online portal.
Gives you up to ten assessments that are combined to produce a personalized career profile.
Provides you access to research 15 million organizations, 20 million industry contacts, in-depth industry profiles, detailed occupational intelligence, and companies in over 70 different countries.
Has everything you need in one location, available 24/7.
Click here to get registered with CareerBeam!
Bulldog Connections
Join the UGA Alumni Association Group on http://www.linkedin.com to view alumni job postings and network with other bulldogs.
Networking is the #1 way to finding your next career, and your UGA connections are over 200,000 strong! The UGA Alumni Online Community allows you to search the directory for alumni by job title or employer name. Find the Alumni Chapter/Club in your area for more ways to get connected.
Resources for Job Seekers
Video Tip of the Week
Tips for a Successful Job Search
Sample Alumni Resumes
Sample Networking E-mails
How to Set Up a Networking Meeting