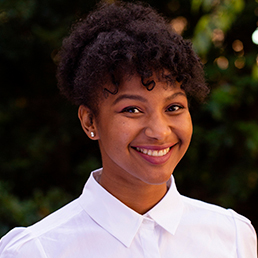 Brandi Raines
Career Consultant for the Franklin College of Arts and Sciences (All Humanities - including Foreign Languages and Pre-Law) and the School of Public and International Affairs
Brandi first joined the Career Center staff in August 2018 as a Graduate Assistant serving a variety of student populations. She is currently a Career Consultant for School of Public and International Affairs, Pre-Law, and Humanities majors. Brandi is considered a double dawg as she received both her B.A. in Communication Studies and her M. Ed in College Student Affairs Administration from the University of Georgia. Brandi is passionate about helping college students discover their interests and she is excited to serve at the very institution so near and dear to her.
Opportunities to Connect with Brandi
To schedule an in-person or virtual/online appointment with Brandi Raines, please do so through your Handshake account, or call the Career Center at (706) 542-3375.
You may email Brandi Raines at .(JavaScript must be enabled to view this email address).
---
Need help before you can meet with your Career Consultant? Take advantage of our virtual drop-in hours, which are held Monday through Friday (during Fall and Spring semesters) from 11:00am to 2:00pm.