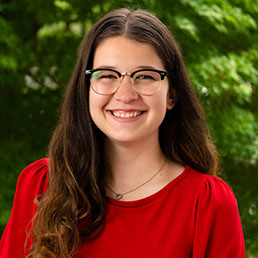 Brionna Johnson
Career Consultant for the College of Agricultural and Environmental Sciences, the College of Environment + Design, the Odum School of Ecology, and the Warnell School of Forestry and Natural Resources
Pronouns: she/her/hers
Brionna joined the Career Center in May 2022 and serves as the Career Consultant for the College of Agricultural & Environmental Sciences, the Warnell School of Forestry and Natural Resources, the Odum School of Ecology, and the College of Environment + Design. Prior to her role as a career consultant, Brionna spent several years as a pre-college advisor with a non-profit focused on expanding college access and success for historically underrepresented student populations.
Brionna is also a proud first-generation college graduate and Double Dawg. She holds a Bachelor of Business Administration degree in Management from the Terry College of Business as well as a Master of Education degree in Higher Education Administration from the Louise McBee Institute of Higher Education.
Opportunities to Connect with Brionna
To schedule an in-person or virtual/online appointment with Brionna Johnson, please do so through your Handshake account, or call the Career Center at (706) 542-3375.
If you have an urgent request, please email Brionna directly or drop-in to her Spring 2023 Satellite Hours (no appointment required, open to all majors served regardless of location):
Jackson Street Building: Jan 23, Feb 13, Feb 20, Mar 20, and Apr 17 from 12pm-2pm

Ecology Building, Richardson Student Lounge: Jan 18, Feb 22, Mar 29, and Apr 26 from 11am-1pm

Warnell Building 2 Lobby: Jan 17, Feb 21, Mar 21, and Apr 18 from 12pm-2pm
You may email Brionna Johnson at .(JavaScript must be enabled to view this email address).
Connect with Brionna via LinkedIn
---
Need help before you can meet with your Career Consultant? Take advantage of our Drop-In Hours when classes are in session.