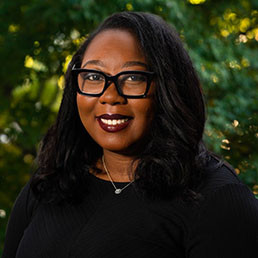 Janieria Dupree
Career Consultant for Unspecified/Exploring Students & Franklin College of Arts & Sciences: Fine Arts Students
An Athens native, Janieria received her B.S. in Psychology from the University of West Georgia & her M.Ed. in Higher Education Administration from Georgia Southern University. Janieria has been in higher education for almost 6 years, most recently at Kennesaw State University, and brings her experience from Advising, the Registrar's Office, and Admissions to the UGA Career Center.
Janieria is very excited to be back in her hometown to serve Exploring/Undecided and Franklin Fine Arts students in search of their careers. In her free time, she loves to catch up on her shows and hang with family and friends.
Connect with me on Linkedin
Opportunities to Connect with Janieria
To schedule an in-person or virtual/online appointment with Janieria Dupree, please do so through your Handshake account, or call the Career Center at (706) 542-3375.
Fall 2023 Satellite Hours:
Drop by to see Janieria in the Lamar Dodd School of Art building every 2nd Tuesday of the month from 2 PM-3:30 PM.
Dates: August 29th, September 12th, October 10th, November 14th
You may email Janieria Dupree at .(JavaScript must be enabled to view this email address).
---
Need help before you can meet with your Career Consultant? Take advantage of our Drop-In Hours when classes are in session.