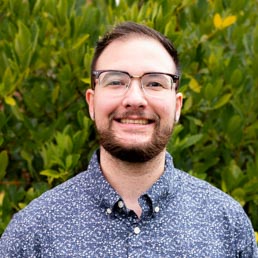 Lee Fowler
Drop-In Graduate Assistant
Lee Fowler (He/Him/His pronouns) is a second year Drop-In GA in the Career Center and a student in the M.Ed. Mental Health Counseling program. He graduated from UGA in 2015 with Bachelor of Arts in both Theatre and Women's Studies. Previously, he worked for four years in UGA Student Affairs in the Tate Business Office and LGBT Resource Center, where he realized his passion for addressing disparities in mental health care for trans and nonbinary folks. In his free time, he can typically be found playing Dungeons & Dragons with friends, completing puzzles, or trying to find more floral-patterned things to add to his wardrobe.
Opportunities to Connect with Lee
You may email Lee Fowler at .(JavaScript must be enabled to view this email address).
---
Need help before you can meet with your Career Consultant? Take advantage of our virtual drop-in hours, which are held Monday through Friday (during Fall and Spring semesters) from 11:00am to 2:00pm.