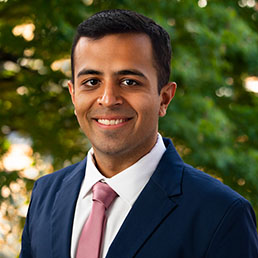 Umesh Patel
Career Consultant for the Terry College of Business (Management, Marketing, RMI, MMR, Real Estate and International Business)
Umesh works directly with the students in the Terry College of Business serving Marketing, Management, Risk Management and Insurance, Real Estate, and Masters in Marketing Research majors. Prior to his role in the career center, Umesh worked as a Lead Academic Advisor in both the Mary Frances Early College of Education and the Franklin College of Arts and Sciences. He holds a bachelors (AB) and masters (MA) degrees from the University of Georgia and has been working in secondary and higher education since 2011.
Umesh is committed to helping students through every step of their career development journeys and encourages students at all levels to take advantage of the services provided by the Career Center.
Opportunities to Connect with Umesh
To schedule an in-person or virtual/online appointment with Umesh Patel, please do so through your Handshake account, or call the Career Center at (706) 542-3375.
You may email Umesh Patel at .(JavaScript must be enabled to view this email address).
---
Need help before you can meet with your Career Consultant? Take advantage of our Drop-In Hours when classes are in session.