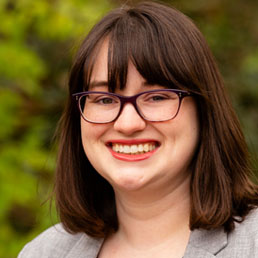 Whitney Denney
Assistant Director of Operations and Strategy
Career Consultant for the Grady College of Journalism and Mass Communication
Whitney guides students through all stages of their career development as they pursue opportunities in the journalism, communication, and entertainment industries. She co-supervises the Career Development Intern team, and collaborates with UGA Career Center leadership to manage Career Development operations.
Prior to joining the UGA Career Center team in 2018, Whitney filled the position of Employer Relations Coordinator at Washington State University. She has worked as a digital marketer where she specialized in online writing and social media management, giving her experience in both the communication industry and higher education.
Opportunities to Connect with Whitney
To schedule an in-person or virtual/online appointment with Whitney Denney, please do so through your Handshake account, or call the Career Center at (706) 542-3375.
You may email Whitney Denney at .(JavaScript must be enabled to view this email address).
---
Need help before you can meet with your Career Consultant? Take advantage of our virtual drop-in hours, which are held Monday through Friday (during Fall and Spring semesters) from 11:00am to 2:00pm.