The UGA Career Center honored the top 100 on-campus student employees on April 10th, 2019 at the annual Student Employee of the Year Awards Luncheon. The event was co-sponsored by the Division of Student Affairs and took place at the Tate Student Center, Grand Hall. The top 3 winners were also recognized and were presented with award plaques. Students are nominated by their faculty and staff supervisor and are evaluated by a 13-member committee.
1st place winner: Elaine Cassandra (Rehabilitation Assistant, College of Veterinary Medicine)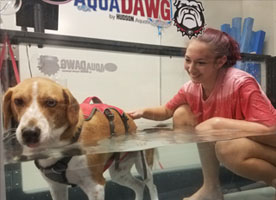 Elaine is a Rehabilitation Assistant in the College of Veterinary Medicine, Small Animal Rehabilitation Service. Jodi Seidel, Elaine's supervisor had this to say about her work. "Elaine's compassion is undeniable and it is equally matched with her talents. Her nursing care is exceptional. She can anticipate a patient's need and she's a natural with getting even the most frightened patients to trust her. Her caring and patient nature helps her to be a natural with our paralyzed and handicapped patients. These patients require a lot of work and if you don't have patience then it's nearly impossible to take proper care of these animals. Our clients see that in Elaine and trust her to take care of their special needs animals. Some of our clients get to a point in their dog's life where they don't trust anyone to take care of their furry loved one so they barely leave the house. They can go years without traveling or visiting friends/family. As you can imagine, this can be exhausting- both physically and emotionally for the owner and the pet. Elaine has given them the freedom to leave their pet without worry and enjoy a little time away. This never would have been an option if Elaine was as exceptional as she is as the thought wouldn't have even crossed their minds."
2nd place winner: Vince White (Desk Assistant, Creswell Hall)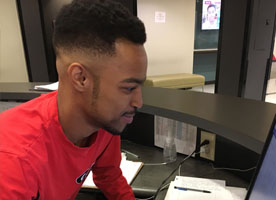 Vince is a 3rd year Environmental Engineering major. Emily Wallace, Vince's supervisor, had many great things to say about Vince's work. "As a desk assistant it is common, especially when working late nights and weekends, to come in to your shift, turn on Netflix or open up homework, and make periodic eye contact as residents enter. This is not typical for Vince. Rather than sitting, Vince stands his entire shift to appear more welcoming and friendly to guests and residents. Taking the risk of exaggeration, it is fair to say that Vince knows the name, major, and a random fact of 80% of residents in Creswell Hall. Given that we have over 900 residents; this is quite a task. When residents enter the dorm, Vince takes time to ask how their chemistry test, club soccer match, sorority formal, or first date went. His inquiries are completely genuine, and this is recognized. Throughout the year, Vince has taken on the role of counselor, encourager, and friend among others in addition to his title of being a desk assistant."
3rd place winner: Mandy Enloe (Personal Training Assistant/Personal Trainer/Group Fitness Instructor, Rec Sports and Senior Office Manager, Student Veterans Resource Center)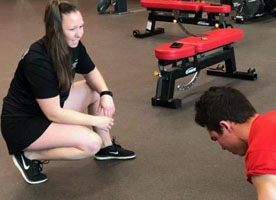 Mandy's primary job is in Recreational Sports as a Personal Training Assistant, Personal Trainer, and Group Fitness Instructor. Mandy also puts in a few hours each week at the Student Veterans Resource Center (SVRC) as the Senior Office Manager. She is a senior majoring in Health and Physical Education with a minor in Exercise and Sport Science. Lisa Williamson, Mandy's supervisor at Recreational Sports, says this about her work. "As a Group Fitness Instructor, Mandy improved more than 500 Ramsey Center members' strength and cardiorespiratory abilities through teaching classes such as TRX Fusion, Boot Camp, $1Abs, Obstacle Course Race Training, and Deep Water fitness. Mandy also serves as the Senior Office Manager for UGA's SVRC. In this role, Mandy works closely with the Director to oversee the work of seven student employees while engaging with students, student groups, alumni, community leaders, prospective employers, the press, and interested donors. Mandy's other supervisor, Ted Barco says "Mandy proudly represents the university, the SVRC and its over 250 student veterans and, in doing so, models the attributes of leadership, professionalism, teamwork, and reliability."
The Career Center proudly recognizes all of the student winners as major contributors to the mission of the University of Georgia.