I assume you have come here because you have a job offer or multiple offers, so congratulations! Or you are planning ahead for when you get that offer. Whatever the reason, congratulations. Many of us do not even think beyond the job interview.
This should be an exciting time, but many people are terrified. So here are seven rules of negotiation to hopefully make the whole experience more enjoyable!
Did you notice that I didn't say "salary negotiation"?… because truthfully, it's not just about the money. Your salary is important and can be a deal breaker, but there are many pieces to compensation that you should also take into consideration.
1. Always Negotiate
It is rare that the first offer is the best offer! Probably the biggest mistake you can make is simply deciding to settle and accept the first offer you receive. Business Insider shared that "In an exclusive survey of 548 millennials in the U.S., 82% said they did not negotiate their first salaries because they either didn't feel comfortable (38%) or didn't know they were allowed to do so (44%)." In short, don't settle!
2. Know Your Worth
A job is a two-way street! You are compensated for the value you bring to the company! Negotiate your compensation based on market research, employer (company) research and the skills, experience and knowledge you can bring to the company.
3. Do Your Research
There are numerous sites available to conduct market research such as salary.com, payscale.com, quintcareers.com or glassdoor.com.
4. Don't Appear Too Eager
Some employers may ask you to offer a figure…try to avoid being tied to a specific number for as long as possible. Feel free to provide a range based on the research you have done.
Remember: Don't accept the offer without having heard it!
Don't feel too pressured and ask for time if you need it!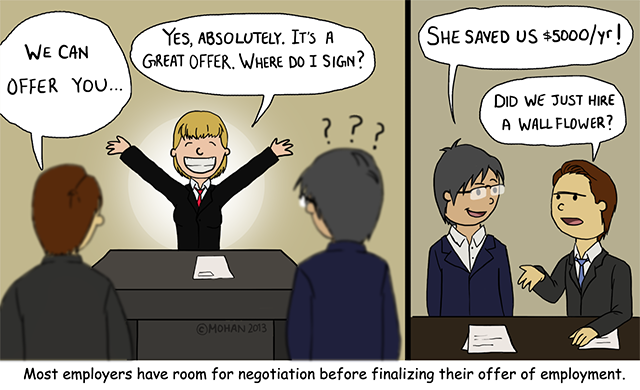 *Image Credit: https://careeraviators.wordpress.com/2013/03/15/an-article-for-new-graduates-in-transition-the-multiplier-benefit-of-salary-negotiation/
5. Be Succinct in Your Counteroffer
Remember to pick the one or two most important elements; you can't negotiate every aspect of the offer. Consider salary, additional vacation time, relocation, signing bonus, etc.
Negotiate what is important to you.
6. Be Professional in Your Negotiation
Avoid taking things personally when negotiating, and be aware that there is a right balance to strike! There is always some risk involved in any salary negotiation. Strive to understand the environment and adopt an appropriate tone. Silence is your friend! After you make a counter-offer and offered your reasons as to why, be silent and allow the employer to speak.
7. Practice Makes Perfect
We negotiate deals for ourselves all the time with our family, friends and loved ones! Negotiation is a skill that can be perfected! Don't go into your next negotiation unprepared!
"In business as in life, you don't get what you deserve you get what you negotiate." - Chester L. Karrass