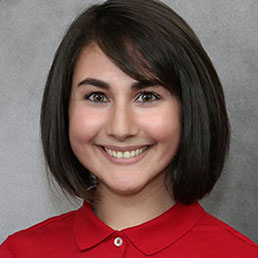 Samantha Meyer
Lead Career Consultant
Career Consultant for the Grady College of Journalism and Mass Communication
Samantha began working at the University of Georgia Career Center in December 2014 as the Career Consultant for the Grady College of Journalism and Mass Communication students, and Intended-Grady students. Prior to this position, she was a University of Georgia student, herself. She received her ABJ in Public Relations and BA in Women's Studies, and then went on to graduate school in Grady with the MA Concentration in ADPR 4+1.
In addition to working with Grady College students, Samantha also chairs the Career Center's internal Diversity Committee, and serves as a liaison to the Institute for Women's Studies and the Multicultural Services and Programs Office. She is honored to be giving back to the University of Georgia community, and strives to give back to the Athens community, as well. She is on the board of directors for The Cottage Sexual Assault Center and Children's Advocacy Center in Athens.
For students interested in a Grady College major but unsure which is the right fit, please see this helpful resource.
Opportunities to Connect with Samantha
Call (706) 542-3375 to make an appointment
Drop by Samantha's Drop-In Hours on Tuesdays and Wednesdays from 1 p.m. to 3 p.m. in Journalism Room 309-D. Please bring printed copies of materials for review.
Visit the Career Center for Walk-In Hours. Samantha covers Walk-In Hours on Mondays from 12 p.m. until 2 p.m. Please visit our home page (career.uga.edu) to see the pop-up for directions on how to get to our temporary office location.