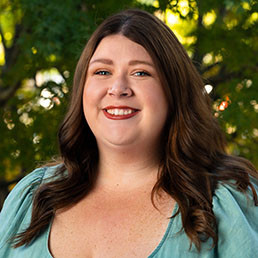 Courtney Kichefski
Career Consultant for the Franklin College of Arts and Sciences (Social Sciences - Anthropology, Atmospheric Sciences, Cognitive Science, Communication Studies, Geography, Psychology, and Sociology)
Courtney serves students pursing Social Science majors which include Anthropology, Atmospheric Sciences, Cognitive Science, Communication Studies, Geography, Psychology, and Sociology. She joined the UGA Career Center team in September 2022 and has a strong background in working with students. Prior to serving as a Career Consultant, Courtney worked in the Exploratory Center as an Academic Advisor where she provided academic guidance to Exploring, Intended Business, and Intended Grady students.
Courtney has a passion for service and travel, and she was previously a Peace Corps volunteer in China. Courtney is dedicated to guiding and coaching her students through every stage of their career and professional journey. She loves meeting new students, so schedule an appointment with her today to learn more about the UGA Career Center's resources and ask any career-related questions!
Opportunities to Connect with Courtney
To schedule an in-person or virtual/online appointment with Courtney Kichefski, please do so through your Handshake account, or call the Career Center at (706) 542-3375.
You may email Courtney Kichefski at .(JavaScript must be enabled to view this email address).
---
Need help before you can meet with your Career Consultant? Take advantage of our Drop-In Hours when classes are in session.