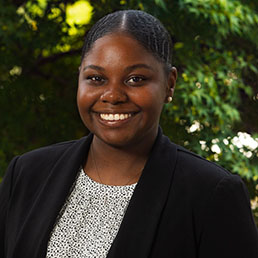 Jacalyn Butts
Career Consultant for Pre-Health Students
Jacalyn is an alum of the University of Georgia and earned her degree in Sociology from the university in 2017. She obtained her Master's in Education in Professional Counseling and College Student Affairs from the University of West Georgia in 2019 where she also worked as a Career Development Graduate Assistant. With over 5 years of experience in the higher education sector, Jacalyn most recently served as Assistant Director for Student Governance & Advocacy at Florida State University. She brings her talent of aligning people and processes through advising, connecting, empowering, and developing. She is beyond excited to be returning home to serve the pre-health student population as a Career Consultant in the Career Center. Jacalyn is from East Point, GA and enjoys reading, spending quality time with family and friends, and watching HGTV in her spare time.
Opportunities to Connect with Jacalyn
To schedule an in-person or virtual/online appointment with Jacalyn Butts, please do so through your Handshake account, or call the Career Center at (706) 542-3375.
You may email Jacalyn Butts at .(JavaScript must be enabled to view this email address).
---
Need help before you can meet with your Career Consultant? Take advantage of our Drop-In Hours when classes are in session.