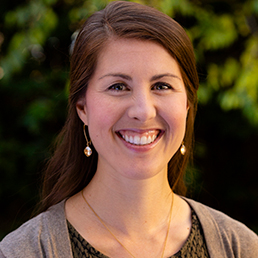 Maggie O'Brien
Assistant Director of Career Exploration
Career Consultant for Undeclared/Exploring Students
Maggie joined the Career Center staff in December 2016 as the Career Consultant for Exploring/Undecided students. Maggie is passionate about helping students connect their skills, interests, and dreams to career paths. She believes that the first step in this process is for students to get to know themselves, and she is happy to help students navigate this process using a variety of resources and assessments.
Maggie is a graduate of Wofford College where she earned a Bachelor's of Science in Chemistry. She is also a graduate of the University of Georgia where she earned a Masters of Education in Professional Counseling.
Any UGA student is welcome to meet with Maggie. Consider meeting with her if:
You are not sure what to study at UGA.
You are not confident that your current major is the best one for you.
You want to learn the steps you can take to explore majors and feel more confident in your academic plan.
Also, to learn more about Career Center workshops that can support your major and career exploration, check out our calendar of events. Many students enjoy attending Explore Lab: Choosing a Major workshops to gain insight and direction when exploring majors and careers.
Opportunities to Connect with Maggie
To schedule an in-person or virtual/online appointment with Maggie O'Brien, please do so through your Handshake account, or call the Career Center at (706) 542-3375.

.(JavaScript must be enabled to view this email address)
---
Need help before you can meet with your Career Consultant? Take advantage of our virtual drop-in hours, which are held Monday through Friday (during Fall and Spring semesters) from 11:00am to 2:00pm.