Questions for Graduate Programs
Questions for Graduate Programs
As you prepare to apply for graduate school, we encourage you to connect with program coordinators, faculty members, current students, alumni, and other members of your professional network to make an informed decision. Browse the questions below to identify which topics are most important to you in your search. This will help you draft your own curated list of questions to help guide future conversations.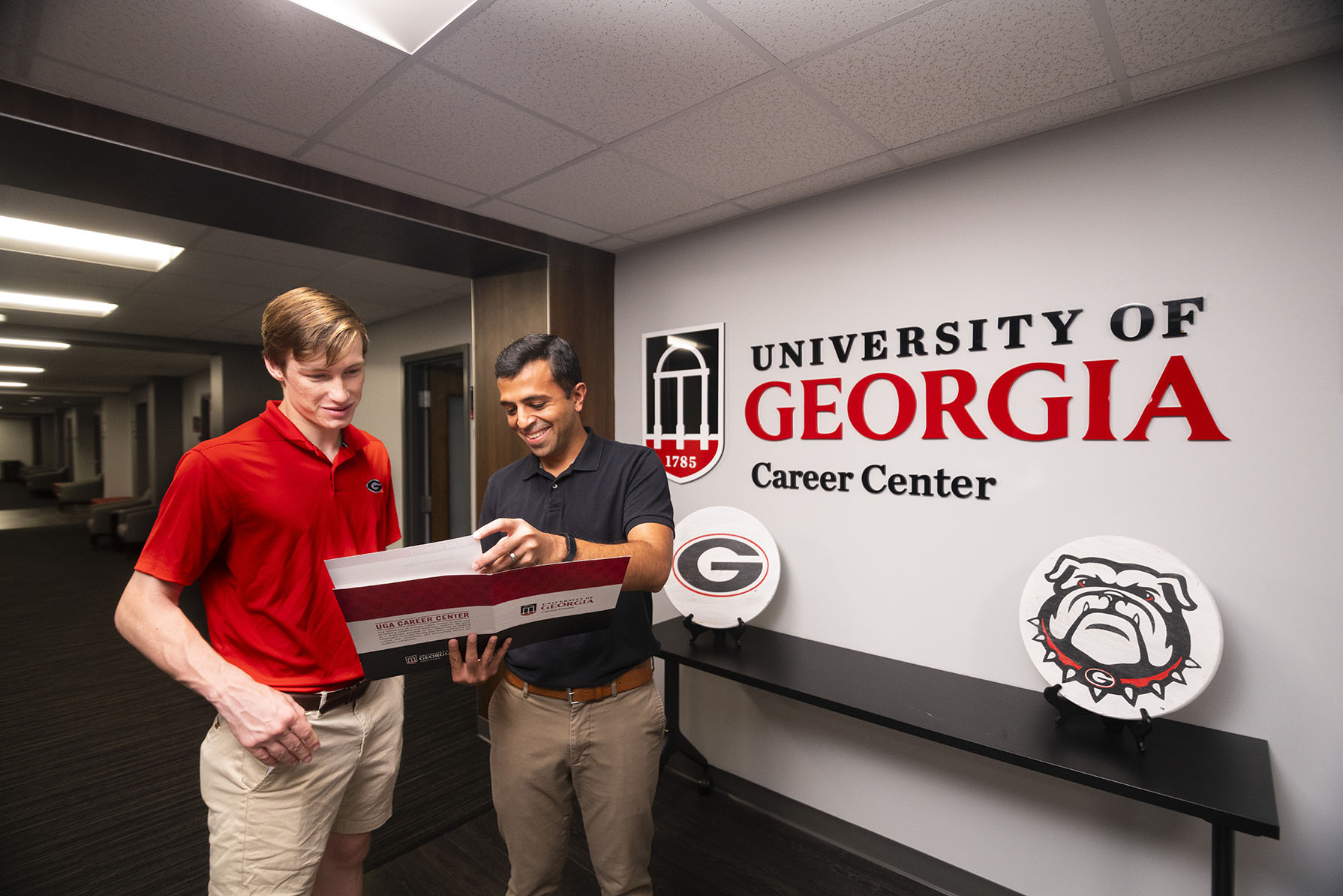 Before you reach out, be sure to explore the program, department, and institution websites for the answers you are looking for.
You can typically find program contact information on "About Us" or "Contact Us" webpages for your program of choice. Look for academic program coordinators or lead faculty contacts as a starting point.
Search for program alumni and/or current students by utilizing filters on the UGA Mentor Program or LinkedIn Alumni Tool search engines.
Utilize our Email Correspondence Templates to inspire your initial outreach.
Consult with Career Center staff for guidance and support as needed.
---
Program Details: Determine how the program functions
Is standardized testing (GRE/GMAT/MCAT/etc.) required for admissions?
When do classes begin (Summer or Fall)?
Is the program cohort-based? How large are the class sizes/what is the average class size?
What is the length of the program/how many credit hours?
How much freedom do students have in choosing their curriculum? Are there any courses students must take?
Are any courses offered online?
What resources are available for students with disabilities?
If accepted, can I defer admission? Under what circumstances?
What is the graduation rate? Student retention rate?
How available are faculty to the students?
How much emphasis is put on research, teaching, or professional experience?
What resources are available to support students with research, teaching, or professional opportunities?
What is the student to faculty ratio for this program?
What is the academic advising process? Are advisors assigned to students, or will I have to choose?
How are mentoring and advising relationships established?
Financial Aid/Assistantships: Understand funding availability and procedures
Are assistantships available in the department or on-campus? What is the best way to learn about them?
Are there application fee waivers? If so, how do I apply for them?
How many students in the program/department receive funding for their studies?
Is supplemental professional development and/or travel funding available to students? If not, how do students typically fund these opportunities?
What is the cost of living in the area/on campus?
Is there graduate student housing available? What do costs and availability look like?
Is there support provided to students in finding housing or potential roommates?
Career Outcomes: Discover how alumni are applying their degrees
Where are past students employed? Where are the employers located?
How are alumni utilizing their degrees in the industry? In academia?
How engaged/impactful is the school's alumni association?
Are there structured networking opportunities for program graduates?
What percentage of graduates gain employment in their field within 6 months of graduation?
Student Life: Explore the student experience
What makes the student body unique?
What programs or resources are available for underrepresented students?
Are there clubs or organizations that promote diversity on campus?
Is there on-campus residential graduate student housing? If not, does the university/program assist students with finding housing or roommate matching?
What are some popular extracurriculars or organizations for graduate students?
What professionally related activities are students involved with?
What facilities/resources are available for graduate students? (Career Center, Rec Center, Health Center, Meal Plans, etc.)?
Are students required to have health insurance?
Can graduate students study abroad in this program?
DEI Questions: Assess diversity, equity, and inclusion resources
How has this program and/or institution demonstrated a commitment to diversity, equity, and inclusion?
Is there a diverse group of students, faculty, and administrators?
What supports are in place for students from marginalized backgrounds?
What on-campus involvement opportunities exist for students with my identity/background?
What are the campus policies for international students?
What is the process for requesting disability accommodations?
Do students have access to resources and/or spaces on campus to practice their faith, regardless of their denomination?
Are there shared religious spaces and/or interfaith houses of worship on campus? Are these spaces safe and monitored?
Questions for Current Students
Why did you choose this school? Did it meet your expectations?
What do you think of the graduate program, generally and specifically?
What are the pros and cons you have discovered being in this program?
What do you wish you knew about this institution/program before you enrolled?
What is your most important advice for new students?
What is a typical weekday like for you?
Can you describe a recent project that you've worked on?
What is your insight on the program's curriculum?
How much time do students spend on research, studying, writing, etc.?
What processes are in place in this department/program to support students with publishing? Are faculty members supportive of this?
What are the best places to study? Are there any graduate student specific study areas?
How accessible and helpful are services on campus?
How do individuals in this program prioritize wellbeing?
What strategies and/or support resources do you use to cope with burnout?
Would you recommend bringing a car to campus or is it a walkable area?
How safe is the campus?
What is the climate like in this area?
What is campus life and campus culture like?