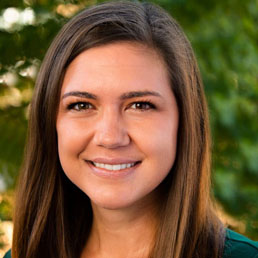 Chelsea Wesnofske
Assistant Director of Career Center Diversity Programs
Career Consultant for the College of Public Health, School of Pharmacy, and Franklin College of Arts & Sciences Life and Physical Science majors.
Chelsea serves as the Assistant Director of Career Center Diversity Programs and is responsible for diversity and inclusion programming, training, and resources for the office. In addition to leading diversity initiatives, she consults students in the life and physical sciences in Franklin College of Arts & Sciences on their career paths. Additionally, she serves students in the College of Public Health and the School of Pharmacy on their respective career tracks. Chelsea joined the Career Center in August 2021. She has worked in higher education for several years serving in a variety of advising roles, student housing management, and teaching assistantships. She is a first-generation college student and will be a triple dawg upon completing her PhD in College Student Affairs and Administration.
Opportunities to Connect with Chelsea
To schedule an in-person or virtual/online appointment with Chelsea Wesnofske, please do so through your Handshake account, or call the Career Center at (706) 542-3375.
You may email Chelsea Wesnofske at .(JavaScript must be enabled to view this email address).
---
Need help before you can meet with your Career Consultant? Take advantage of our Drop-In Hours when classes are in session.