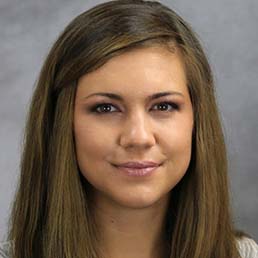 Chelsea Wesnofske
Career Consultant for the College of Public Health, Pharmacy, Life & Physical Sciences, and Pre-Health students
Chelsea joined the Career Center in August 2021. She has worked in higher education for several years serving in a variety of advising roles, student housing services, and teaching assistantships. She has numerous professional certifications including the Global Certificate, Certificate in Diversity and Inclusion, and the Academic Advising Certificate. She is active in research and has presented at conferences including both the national and regioanl NACADA conferences and the Scholarship of Teaching and Learning conference. She will be a Triple Dawg upon completing her PhD in College Student Affairs and Administration. In addition to her PhD, she has received a Political Science degree and Geography Masters degree from UGA.
As a first generation and transfer student, Chelsea is passionate about helping students transition through various stages of their academic and professional careers. She enjoys helping student develop meaningful acadmeic and career plans. Chelsea is an advocate for her students and can assist them with resume and cover letter prep, mock interviews, campus resources, job searching, finding mentors, career assessments, preparing for graduate and professional schools, and navigating the application process among many other topics of interest.
Opportunities to Connect with Chelsea
To schedule an in-person or virtual/online appointment with Chelsea Wesnofske, please do so through your Handshake account, or call the Career Center at (706) 542-3375.
You may email Chelsea Wesnofske at .(JavaScript must be enabled to view this email address).
---
Need help before you can meet with your Career Consultant? Take advantage of our virtual drop-in hours, which are held Monday through Friday (during Fall and Spring semesters) from 11:00am to 2:00pm.