Student Employee of the Year 2022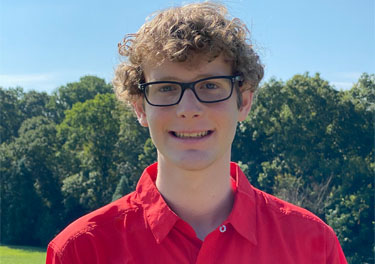 First Place
---
Christian Albritton
Student Assistant, Georgia 4-H Youth Science Programs
Hometown: Butler, GA
Junior, Avian Biology and Biological Science
"Christian plays an integral role in supporting our 4-H Ambassador program. Over the past two years, nearly one hundred high school 4-H youth were trained to independently implement science-related programs in their local communities." - Kasey Bozeman, Georgia 4-H Science Programs
Most coworkers say "how was your weekend on a Monday morning" but not mine. My State 4-H Office colleagues ask, "what's Christian's schedule for this week?" because Christian Albritton's commitment, professionalism, and positive attitude as a Student Employee are recognized and appreciated by all those who interact with him.
Using his 4-H experiences and digital literacy skills, Christian created approximately 20 digital 4-H science activities that complimented existing resources. These activities served over 200 4-H faculty and staff as they led over 110,000 youth in 4-H programs through school partnerships. Christian has also helped to create simple 2-3 page "Mentoring with STEM" activity guides that volunteer mentors can use during the meeting with the mentee youth. He sought out new platforms and programs that would allow students to engage in science content through new and sometimes remote delivery methods. Google Jamboard, Desmos, Flippity, Kahoot, and Flipgrid were some of the many platforms he utilized, meeting a critical and timely need in our organization. And when a platform did not quite align with our needs, he literally rewrote the HMTL code to allow the Desmos, a primarily math-focused software program, to include images with text descriptors.
Christian recruited a Poultry Science professor to be a guest speaker during our virtual Georgia 4-H Zoom into Science program, helping to bridge the connection between everyday youth and the Georgia's largest agriculture commodity, poultry. Christian provided the captioning on all the recorded sessions, ensuring the videos are accessible to all audiences, meeting a critical requirement. We would not have been able to publish the videos without Christian's leadership; he's helped expose over 1,000 youth to virtual science programs.
Christian plays an integral role in supporting our 4-H Ambassador program. Over the past two years, nearly one hundred high school 4-H youth were trained to independently implement science-related programs in their local communities. Under my direction, Christian serves as the lead author for the monthly e-newsletters for the Ambassador students, finding and highlighting research-based resources and information for the Ambassadors to utilize in their roles. To date, he has published 30 editions.
Although he's technically supporting our 4-H science efforts, Christian does much more to benefit the overall Georgia 4-H program. He is sometimes be seen walking door-to-door aiding anyone who needs an extra hand within our department. Need a box moved? Christian will not only put the box in the correct location, but he will probably inventory the materials and let you know if anything needs reordering. Need copies produced? They'll be organized, colorcoded, and labeled. Have an upcoming event? He'll offer ideas that streamline methods and provide realistic timelines and expectations. He's keenly aware of deadlines, tasks, and responsibilities, and can easily project his schedule to maximize his outputs. Need a good secret family buttermilk pie recipe? Yes, Christian can provide that, too.
There have been more times than I can count when I start a sentence with "What about if we …" and he ends it with "that's already been done." His willingness to learn new information, develop his skills, listen to critical feedback, and respect diversity among our organization makes him the ideal student employee.
---
Nominated by: Kasey Bozeman, Georgia 4-H Science Programs
---