Student Employee of the Year 2022
Team Winner
---
College of Public Health, Department of Environmental Health Science, Environmental Microbiology Laboratory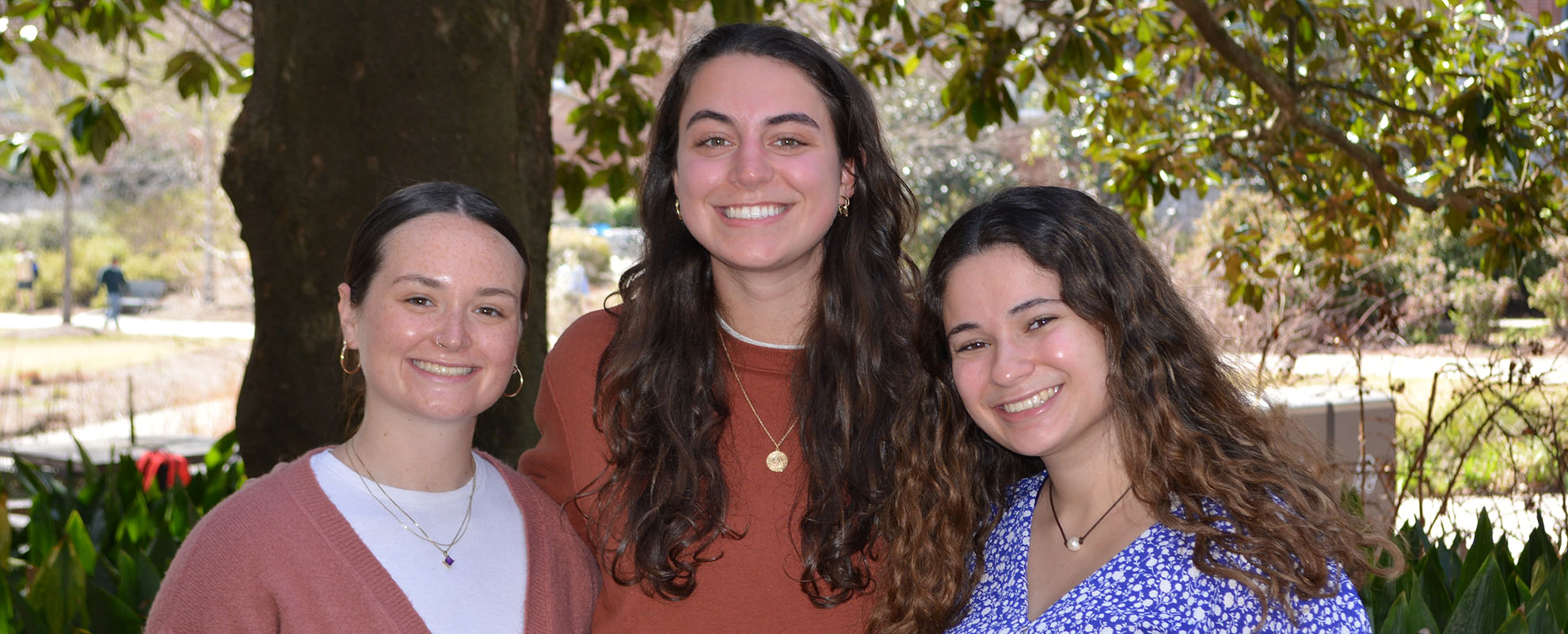 Pictured left to right: Lily Metsker, Amelia Foley, Carolina Melendez-Declet
"Lily, Amelia, and Carolina are incredibly bright, resilient, competent, and ambitious. They are dedicated to their work at the bench – they are punctual, technically fluent, and independent. But most importantly, they are moved and driven by a larger purpose – a responsibility to their team members and to the community." - Dr. Erin Lipp and Megan Lott
The wastewater surveillance program is an ongoing monitoring program to investigate community-level COVID-19 transmission through monitoring sewage in Athens Clarke County for the SARS-CoV-2 virus. Amelia, Carolina, and Lily are responsible for the twice weekly collection, processing, and analysis of wastewater samples for SARS-CoV-2 viral RNA. This team has spent countless hours in the field, collecting wastewater samples from wastewater reclamation facilities and directly from sewer lines throughout Athens-Clarke County. Once brought back to the laboratory, the samples are processed, and RNA is extracted by Carolina and Lily. From there, Amelia analyzes the samples for SARS-CoV-2 using cuttingedge molecular techniques (RT-qPCR). Since June 2002, this team has processed, analyzed, and produced results for over 600 wastewater samples.
With their collaboration, coordination, and teamwork, the team publishes their results weekly on our public-website. With so many moving parts, this is no small task. Each week, the team must process eighteen wastewater samples, collected from three wastewater reclamation facilities, twice per week. As samples are processed, they move hands between Carolina, Lily, and Amelia. In this process, timing is everything to assure quality analysis. This demands strong coordination and communication between all members, as well as ingenuity and flexibility when challenges arise. Because of the real-time and public facing nature of this work, their results must pass a high level of quality control before data are made public.
Their dedication underscores their understanding of the importance of this work to inform public health decisions during a critical time of the COVID-19 pandemic. Amelia, Carolina, and Lily take responsibly for this work with the interests of the larger community in mind, demonstrating an amazing capacity for professionalism and work ethic. They understand the importance of the work they contribute to and their role in ensuring robust and timely data are provided.
These undergraduate employees are an essential component of our wastewater surveillance program, they make an exceptional and successful team, and they are excellent colleagues among their group and with the lab members broadly. They are incredibly bright, resilient, competent, and ambitious. They are dedicated to their work at the bench – they are punctual, technically fluent, and independent. But most importantly, they are moved and driven by a larger purpose – a responsibility to their team members and to the community. Upon their graduation, Amelia, Carolina, and Lily will surely be an asset to the workforce and fantastic embodiments of the best that UGA has to offer.
---
Nominated by: Dr. Erin Lipp and Megan Lott
---